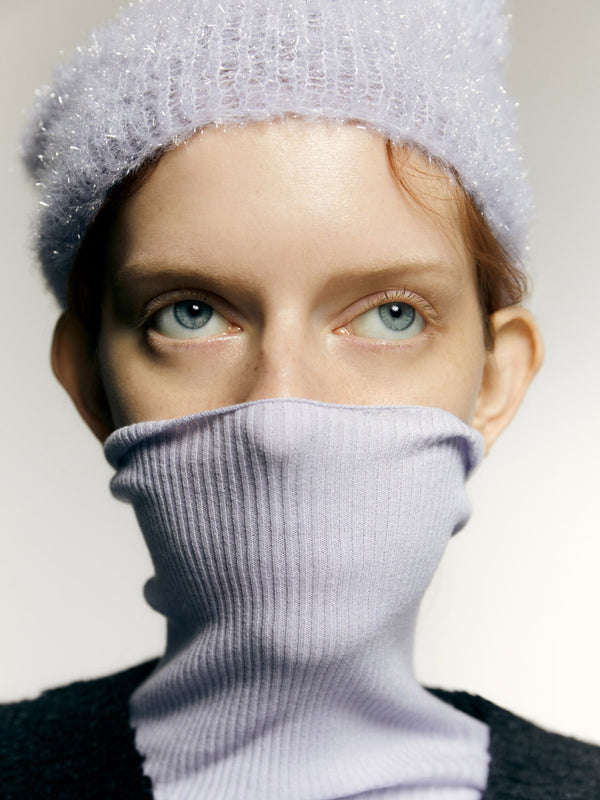 Edition no.9
Transformation begins first with looking deep inside ourselves. Titled "Raw Edges", our FW23 collection calls for introspection as a catalyst for renewal, both spiritually and creatively. In gently acknowledging our thoughts, feelings, and dreams, we slowly come to uncover our truest and most vulnerable self.
For those who seek it, there is strength to be found in the vulnerability of becoming; there is boundless joy in the act of metamorphosis.

The highly personal oeuvre of sculptor Maria Bartuszová heavily informed our creative process this season. Working with rough white plaster, Bartuszová creates delicate, abstract structures that seem to exist in a perpetual state of becoming, teetering on the brink of the finished and unfinished. A metaphor, perhaps, for the endless endeavour of self-discovery.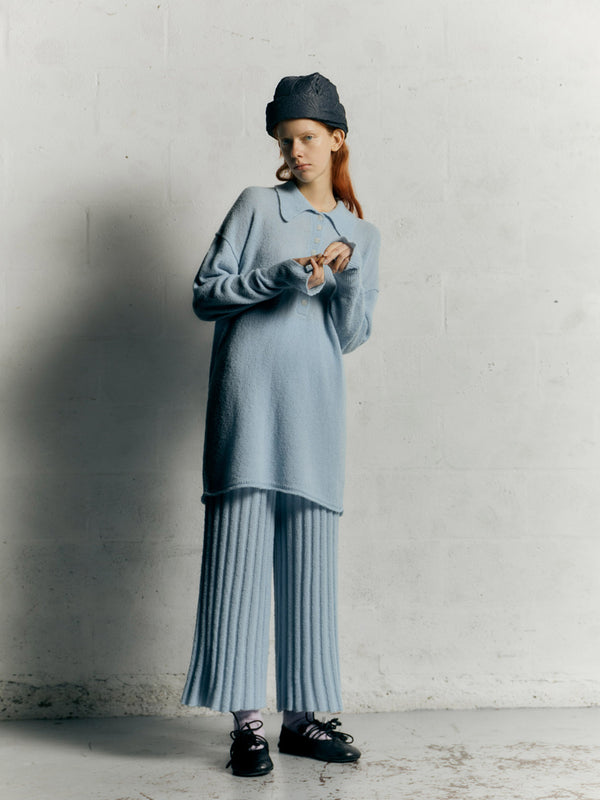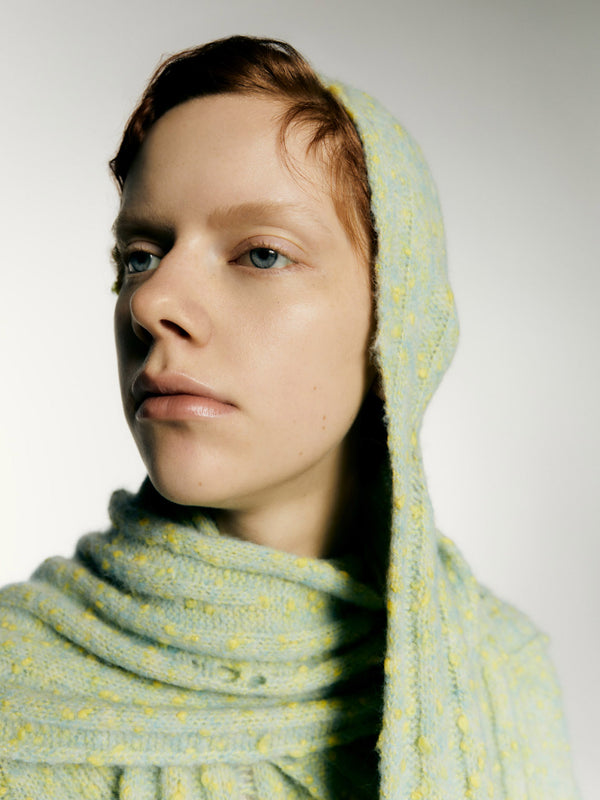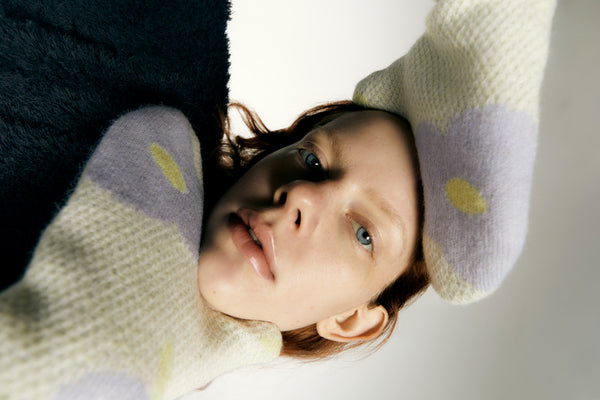 Following self-reflection, exploration is the next step on the ladder to transformation. This season, we spent considerable time developing the new textures and fabrics that would make up our FW23 collection, embracing the happy accidents and missteps made along the way. As a result, this season arrives with an aesthetics of experimentation, which revels in the beauty of imperfection and the play of trial-and-error.

Feather-light sweaters, dresses, and skirts, made from soufflé alpaca, bear small, distressed perforations, a nod to the joyous mishaps of the creative process. Intricate ladder-stitching details evoke the feeling of something coming undone and then back together. Elsewhere, nubby two-tone tweed lends a raw quality to outerwear and other cold-weather separates. Loose threads of baby alpaca breathe life into refined boiled wool fabrics, while glistening tinsel yarns add a touch of irreverence to a cable-stitched dress.

Throughout the collection, scarves, warm mittens and headpieces, both waterproof and knitted create a cocoon that envelops the wearer from head-to-toe.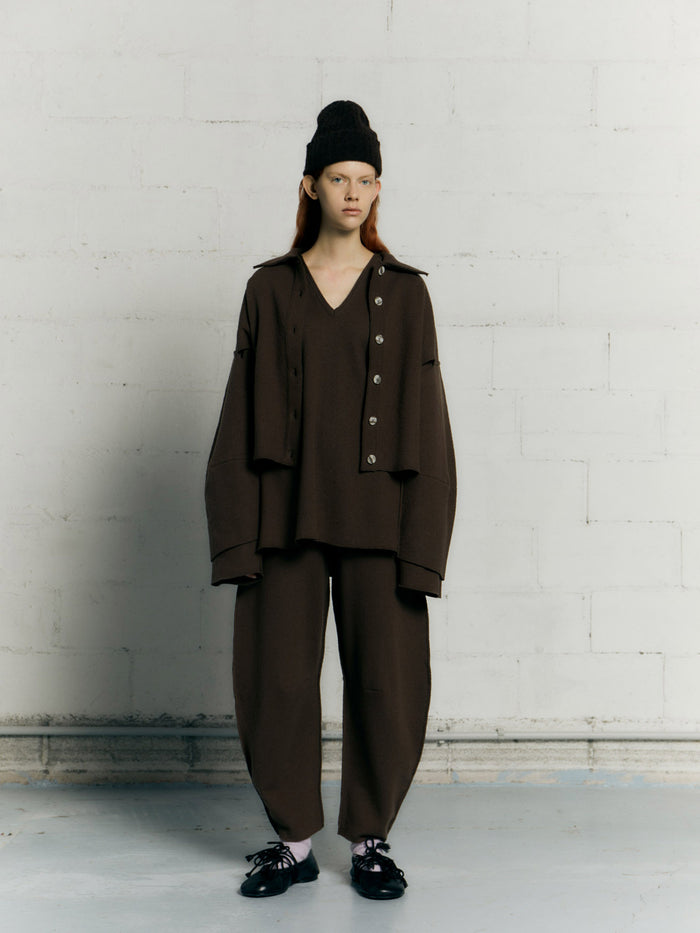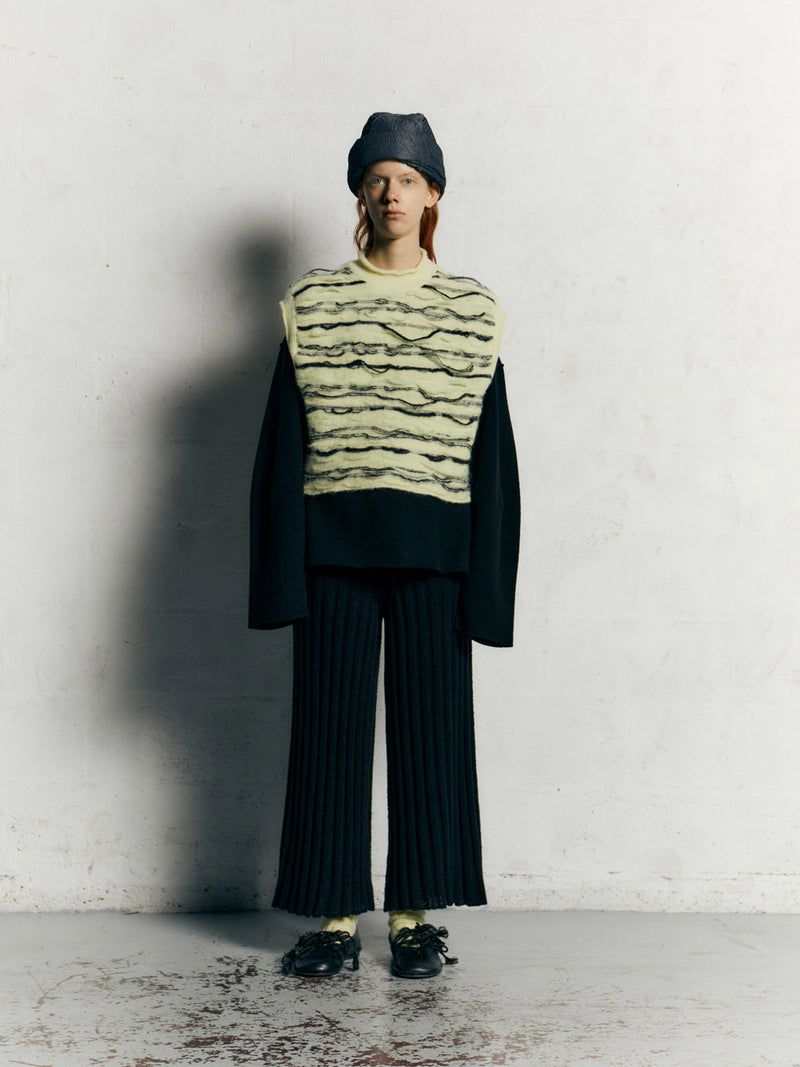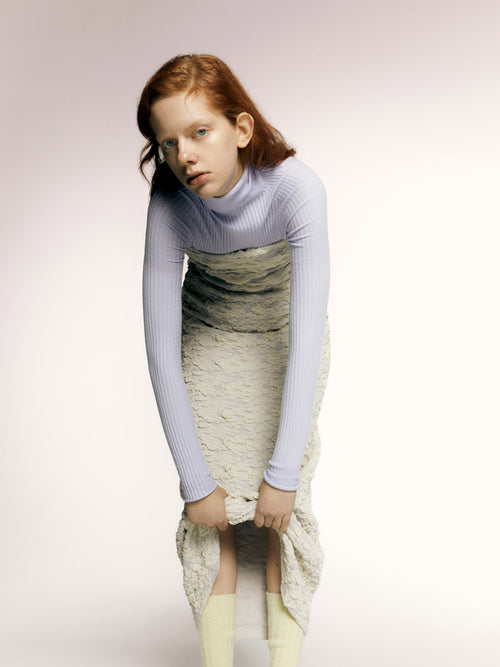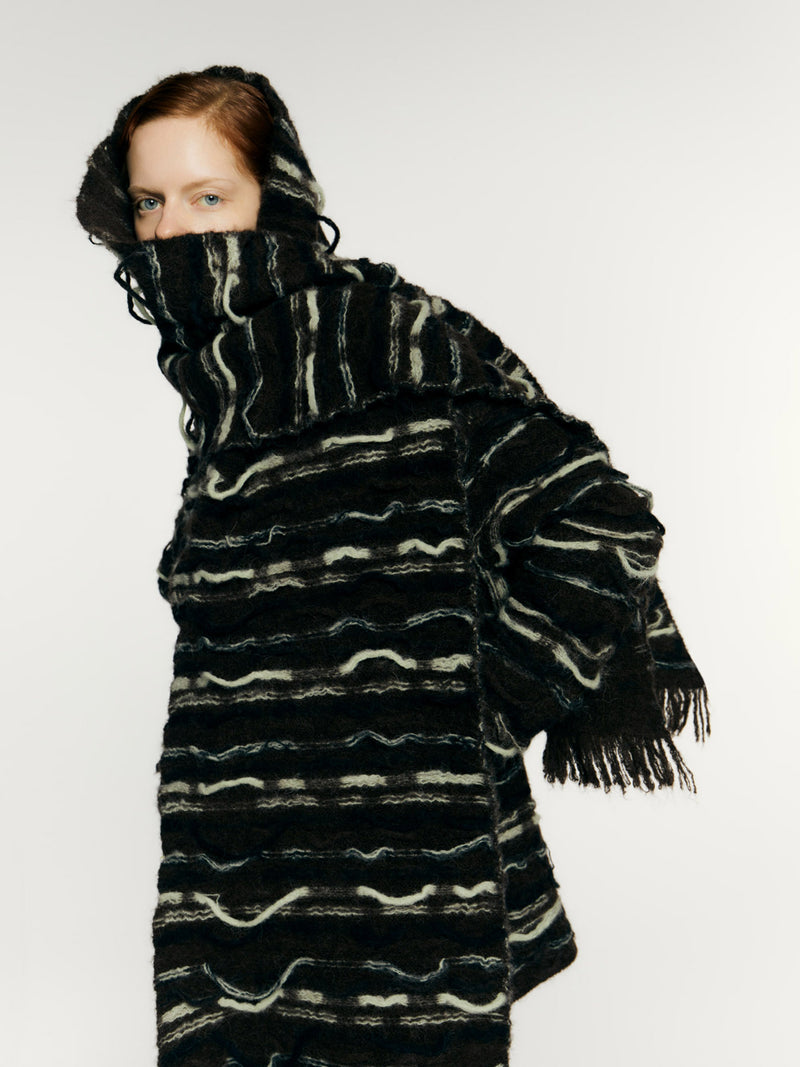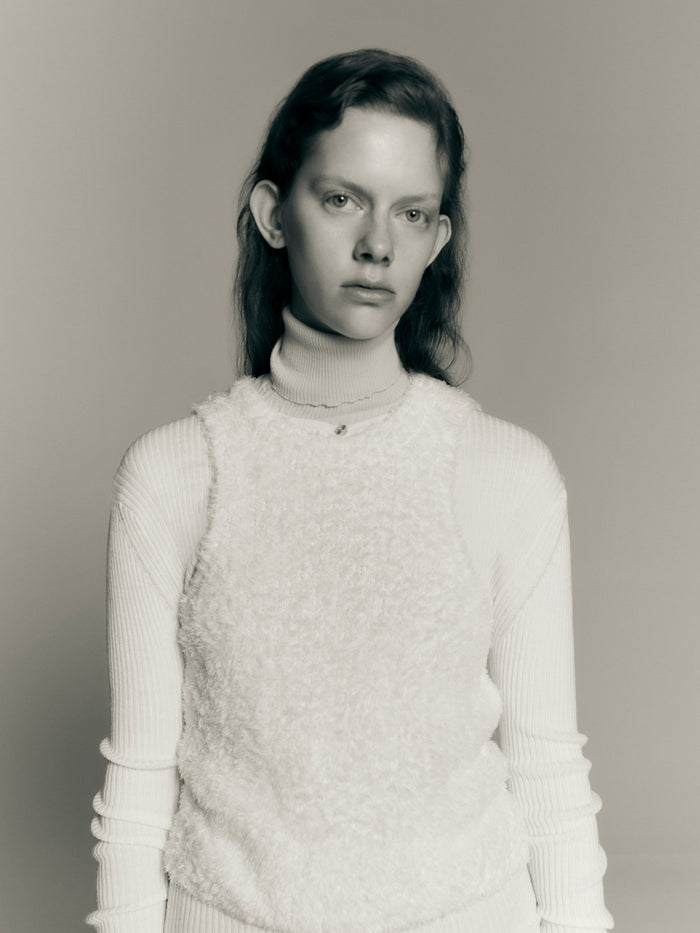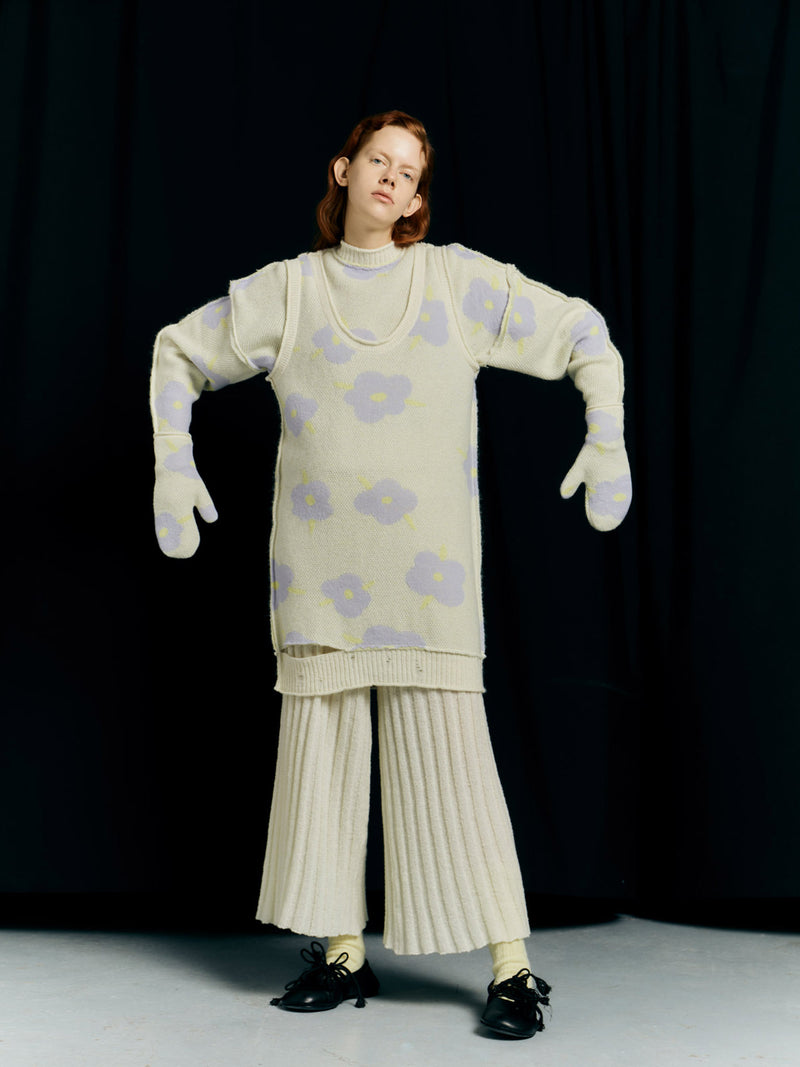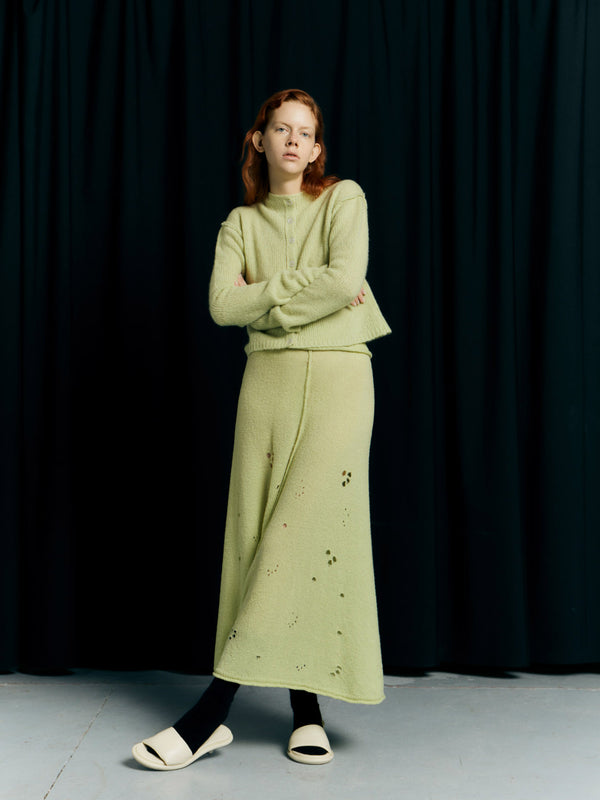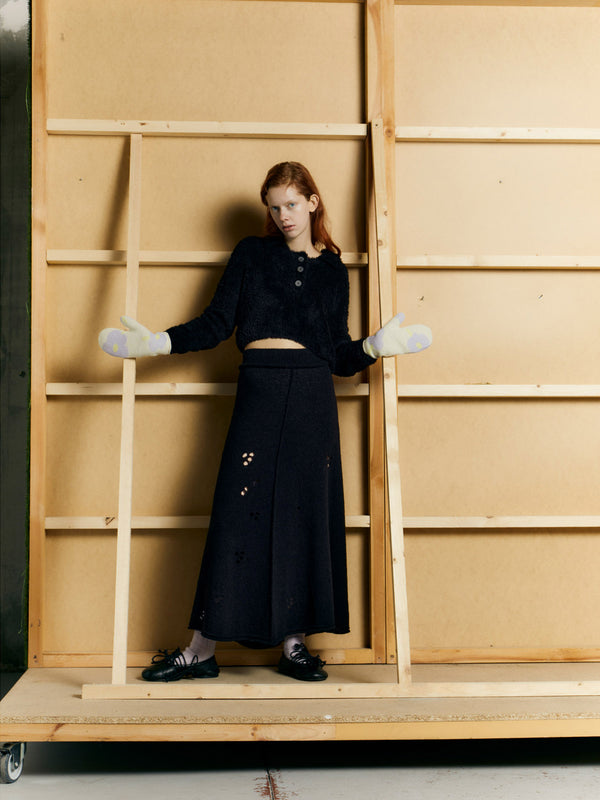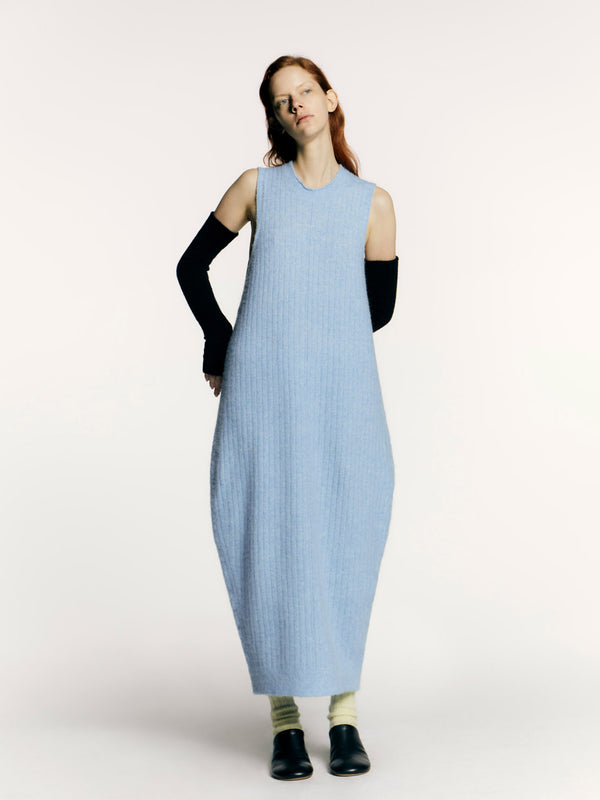 This season's palette sees the interplay of light and dark, highlighting and casting shadows upon the various realms of the psyche. Luminescent whites and creams speak to the sunny landscape of the conscious mind, while dusky lavenders, athracites, and espresso express the depths of the unconscious.

Somewhere between the two, hazy greens and misty blues embody the domain of dreams, those mysterious figments that guide us into the future.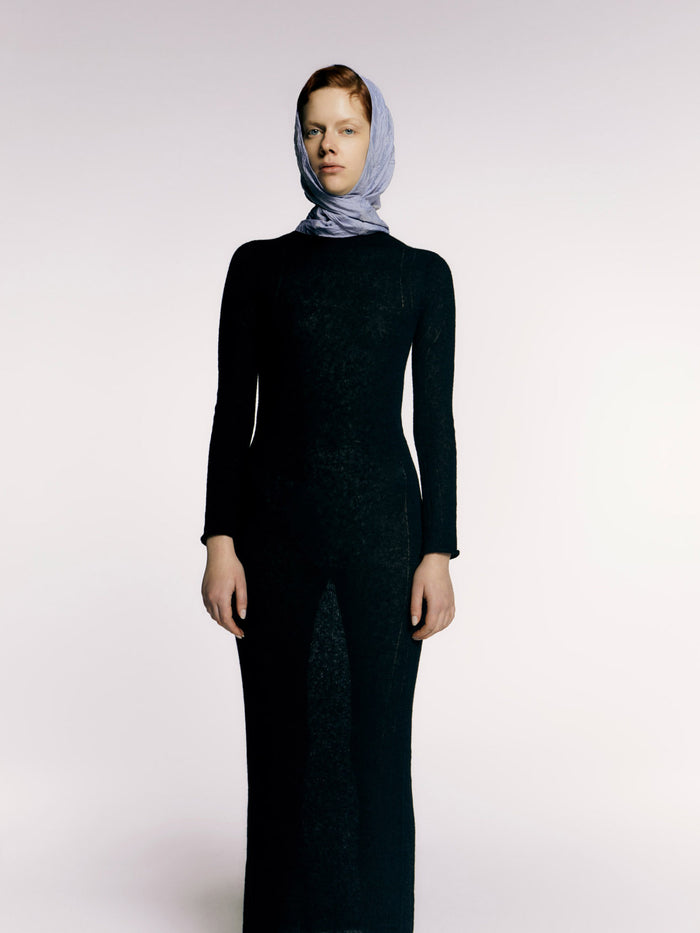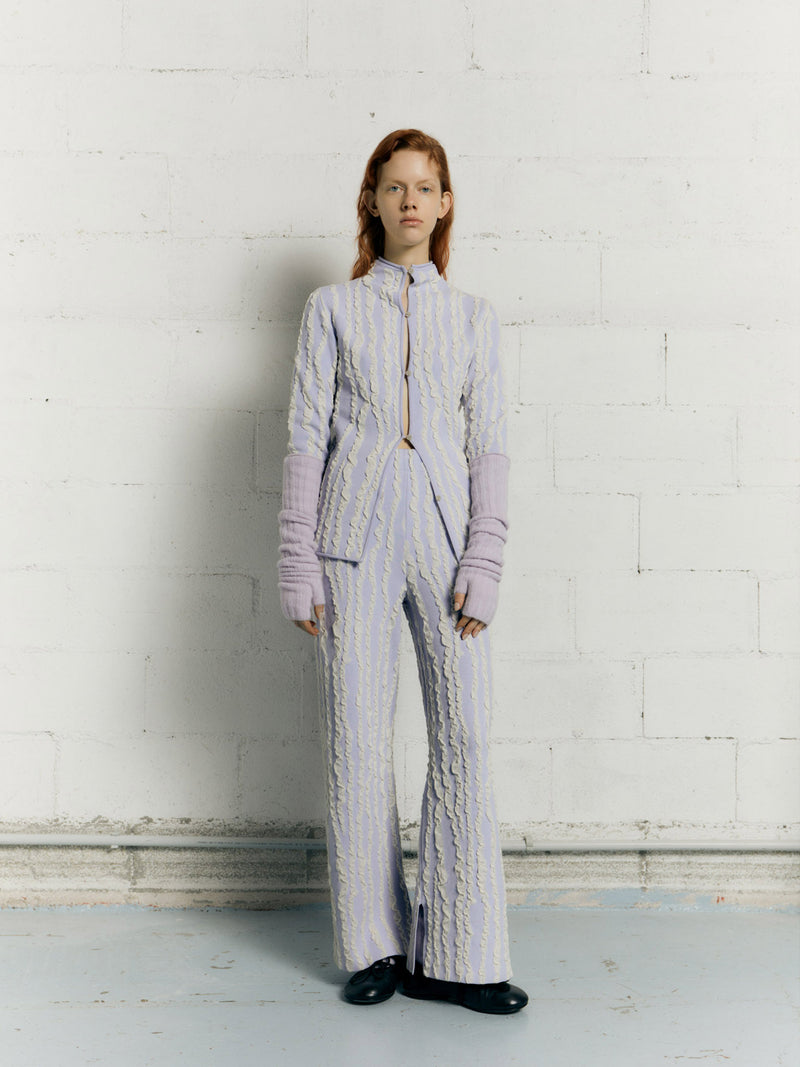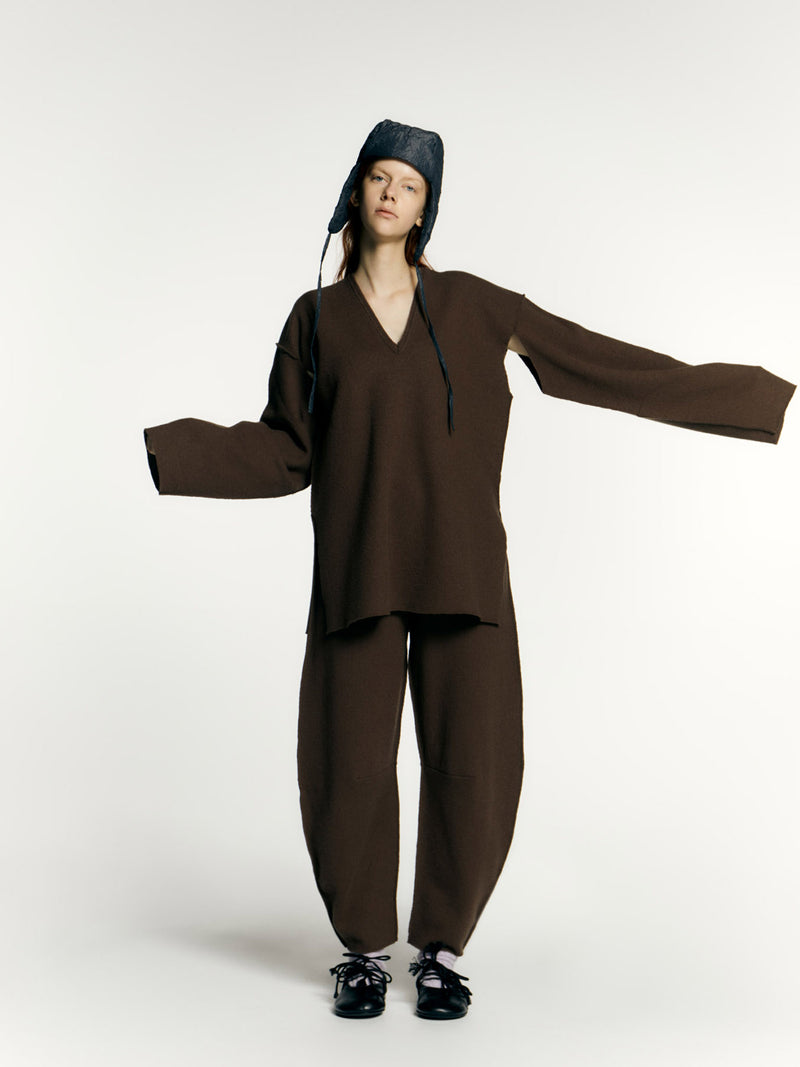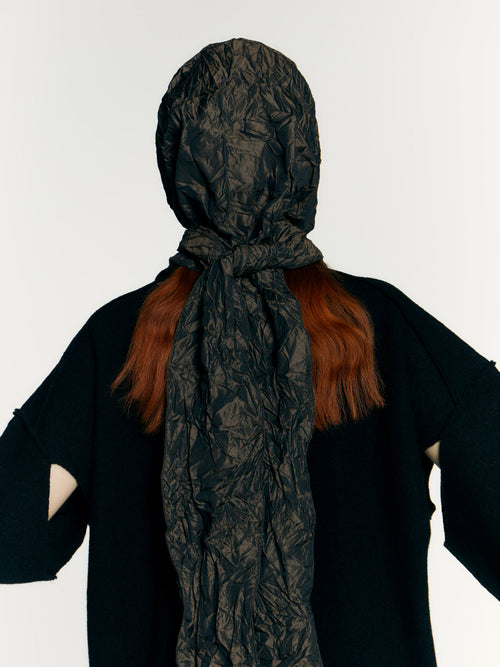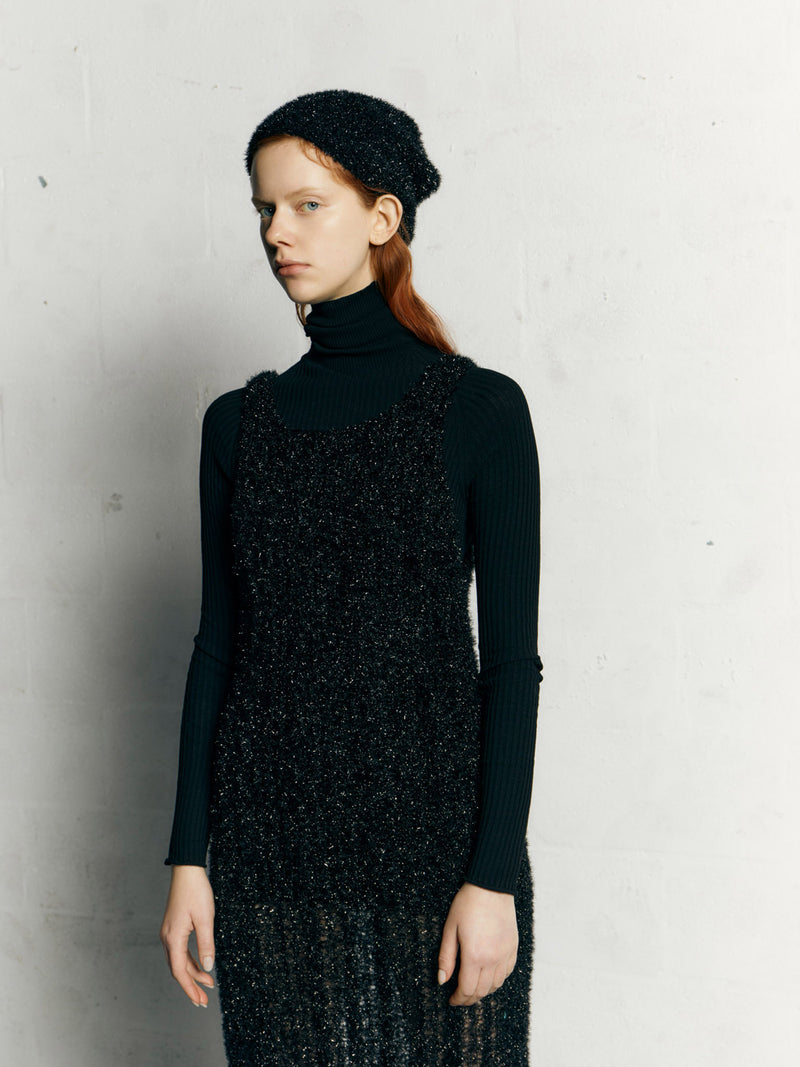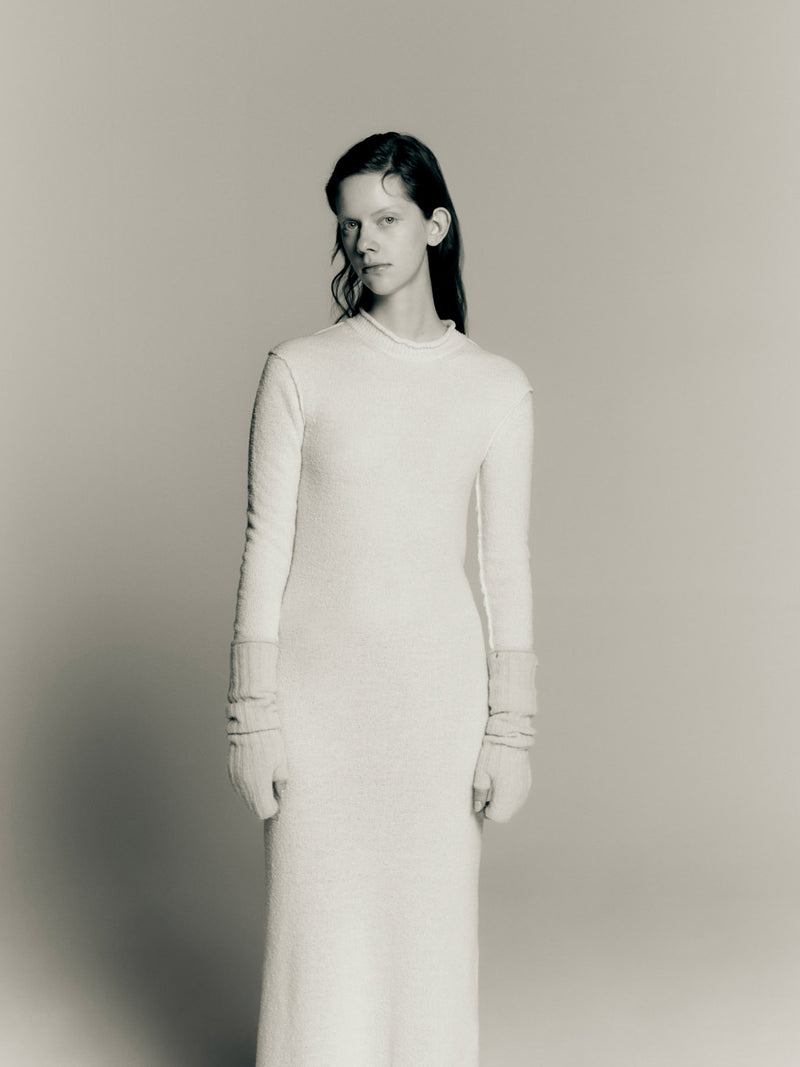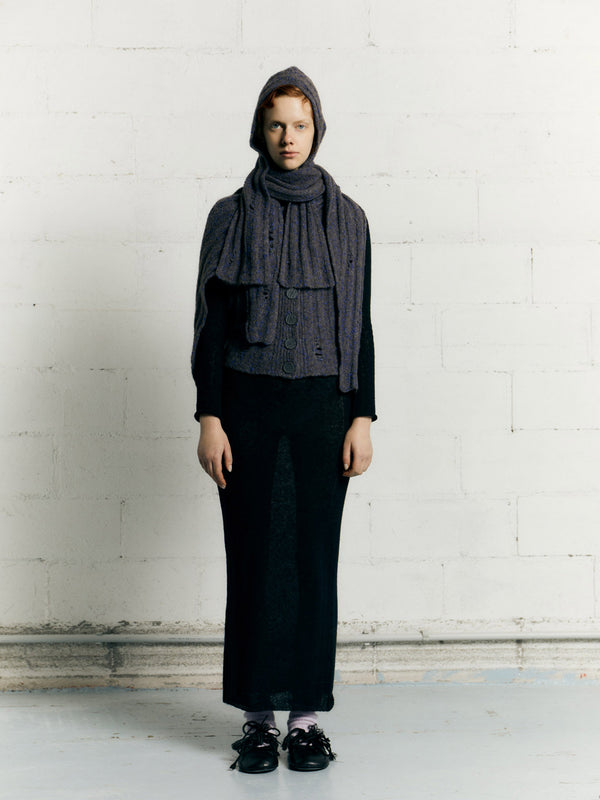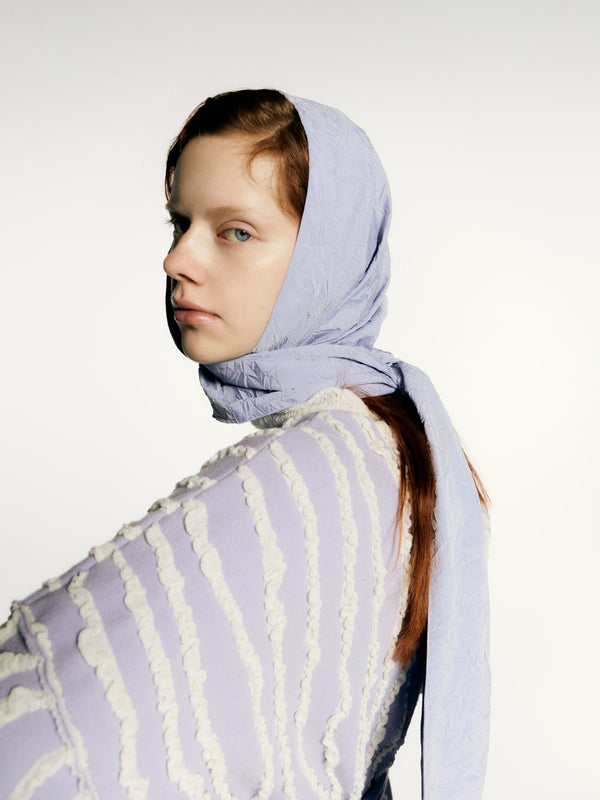 Raw Edges